The Lulzbot TAZ Workhorse is Here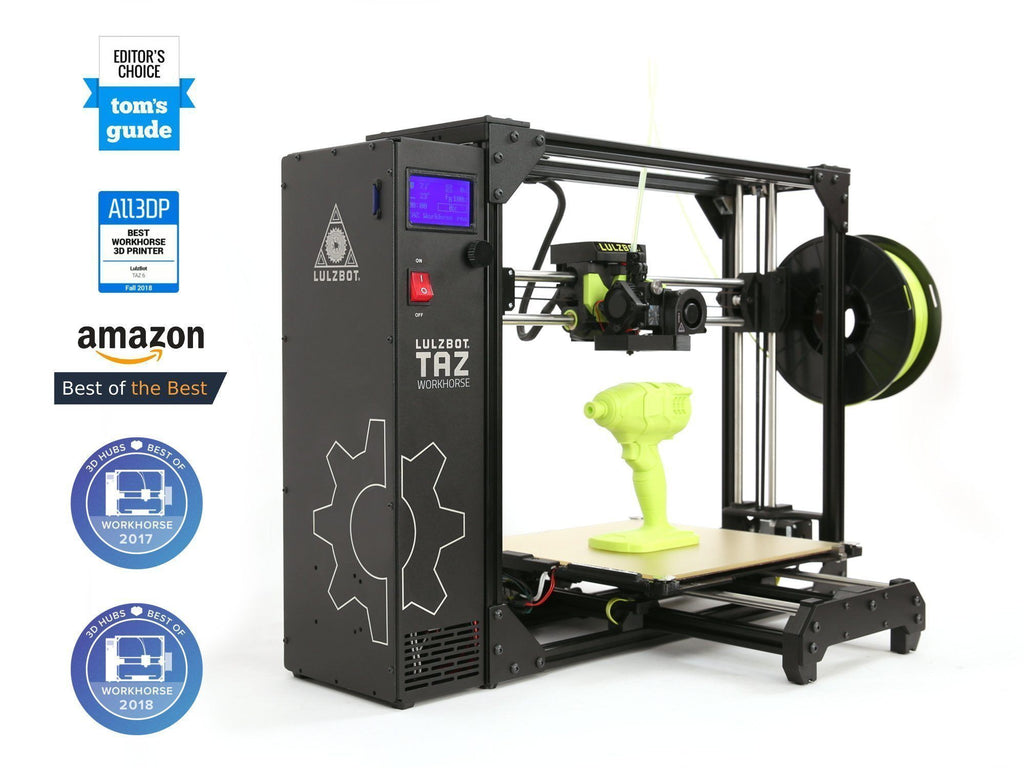 A name earned over seven years and millions of printing hours, the LulzBot TAZ Workhorse Edition is a ready-to-print powerhouse that builds on the unmatched reliability and print quality of its predecessors while offering more material options than ever before.
What is new on the Lulzbot Taz Workhorse?
Hardened-steel tool head components enable reliable printing of high-strength and high-heat composites that are too abrasive for other machines to use
14% larger build volume ( 11 x 11 x 11.2") than the Lulzbot Taz 6

A premium E3D hot end enables flexible material printing right out of the box

Belt driven Z-axis for fast cycle times and elimination of Z-wobble
The industry's widest array of supported materials with ready-to-print profiles including flexible, rigid, composite, conductive, high strength, and chemically resistant filaments

Get professional results every time automated X/Y/Z calibration, nozzle wiping, and self-levelling features.

Fully Canadian certified - Certifications: FCC, CE, WEEE, ETL by Intertek (UL), CA, CSA, OSHWA
Download the full Lulzbot TAZ Workhorse spec sheet
Belt Driven Design

A belt drive Z-axis, which is only found on LulzBot 3D Printers, eliminates "Z wobble" print artifacts that can result from threaded rods while also speeding up cycle times.

Hardened Steel Components

The hardened-steel components of the TAZ Workhorse allow you to print with abrasive high-strength and high-heat composites that can damage typical out-of-the-box desktop 3D printers.

Premium Hotend

A lightweight tool head design, hardened steel E3D Titan Aero hot end, and 360° part cooling delivers precise, flawless-looking prints.

More Accurate Prints
A concept used in professional-grade CNC's, the LulzBot TAZ Workhorse uses an innovative calibration cube to measure and compensate for X/Y/Z backlash, increasing printed part precision.

Modular Bed

The Modular Print Bed System heats up quickly and features a reversible glass/PEI print surface, expanding versatility and simplifying maintenance.

Z-Axis Levelling

Enjoy automated z-axis leveling with dual z-axis limit switches and LulzBot's innovative belt driven z-axis.

 We are proud to be your Canadian source for all 
Lulzbot 3D printers
 and 
accessories
. We back these printers with our lifetime support so you know you are in good hands. As always, all 3D printers ship for free anywhere within Canada. Feel free to contact us today to speak with a sales representative about the all new 
Lulzbot TAZ Workhorse
!