Printer Donation Update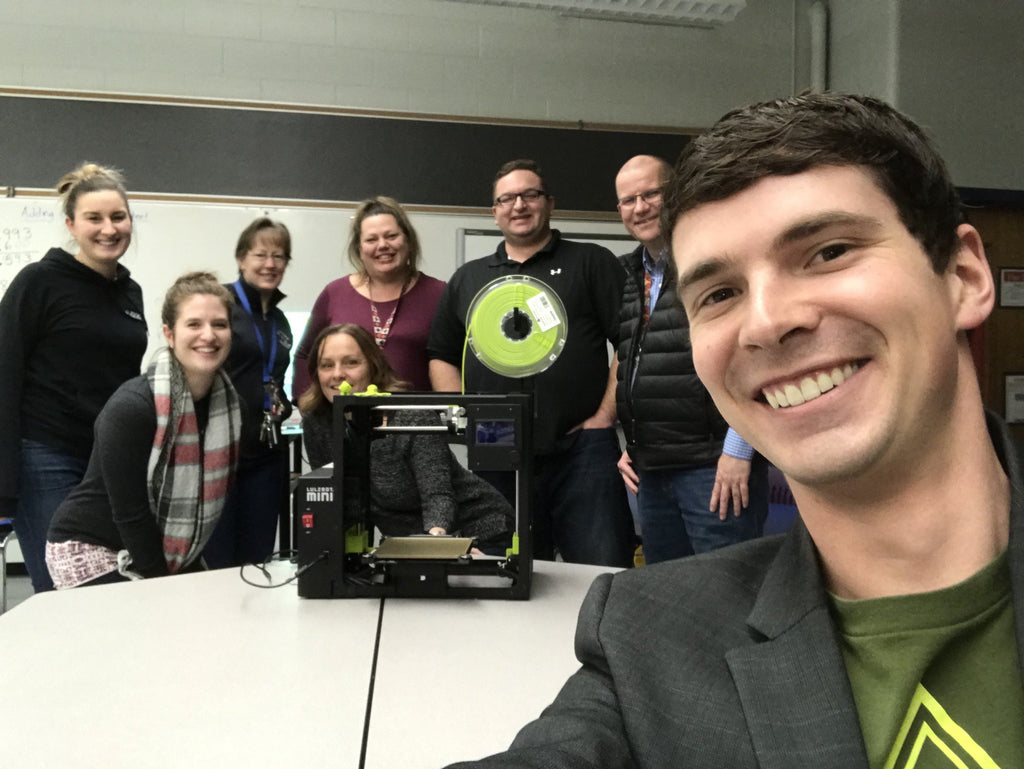 Update: June 25, 2019:
We are very excited to announce that we have made our second printer donation to a very deserving school here in Calgary as part of our Enviromakers initiative. Bob Edwards School is the well deserving recipient of this second donation. They are now all set up with their Lulzbot Mini 2, an enclosure, and plenty of filament to help get them started. We also spent a Friday afternoon with a group of teachers from Bob Edwards to help properly train them on printer operation, maintenance, software, and troubleshooting.
"We are thrilled with the donation of a 3D printer to Bob Edwards School.  We are proud of the variety of core and options courses we provide at Bob Edwards and are excited about the chance to enhance these curriculums with the 3D printer. We are looking forward to creating tools and small objects as prototypes when working on design challenges in Enterprise and Innovation.  In Science students will be able to create structures with different criteria and shapes within their forces and structures module, as well as building models in biology like building DNA models or animals and plants cells. In Art class, the 3D printer will be used to build small models of sculptures and replicas before constructing these sculptures in larger sizes.  Thank you Colin and Print Your Mind 3D Inc. for providing our students with the opportunity to access an aspect of 21st century technology in order to make our learning more authentic and meaningful." says Brooke Reilly, Vice Principal of Bob Edwards School. 
This is now our second 3D printer donation to well deserving schools in the Calgary area. Print Your Mind 3D wants to pass along a very big thank you to all of our customers who help make our Enviromaker initiatives possible. We also want to thank Lulzbot for supporting the donation as well. We hope these printers will help inspire the next generation of socially minded makers. 
Update: January 21, 2019:
We have some very exciting news! We have made our first 3D printer donation to Bowcroft School in Calgary, Alberta.
You may recall, we made a commitment in June to donate 1 3D printer for every 10 sold this summer to a school or community hub who could otherwise not afford one. We are now making good on that promise through our first donation to a very deserving school. This donation is part of our mission to inspire the next generation of socially minded makers made possible through our Enviromaker initiatives. A portion of every sale directly supports these initiatives. 
The school already has many plans for how it will use the printer:
"The addition of a 3D printer is a dynamic new resource for our Learning Commons.  The teachers who participated in the in-service are inspired to implement its use as part of task design with a focus on STEM.  The conversation during the in-service was focussed on how the 3D printer could be used to support authentic inquiry and investigation of real-world issues.  Particularly among our Kindergarten to grade 3 teachers, opportunity was seen in how the printer could engage students in learning that is both visible and tangible." says Rudy Stein who is the Principal at the school. 
Colin providing training to staff at Bowcroft School
The school is now set with everything they need to support their students 3D ideas including a brand new Lulzbot Mini 2, enclosure, and filaments to get them off to a great start. We also spent a few hours at the school with staff to provide training on printer operation, maintenance, troubleshooting, and software. 


"We are so thrilled to have the opportunity to inspire the next generation of socially minded makers at Bowcroft School. Our ten to one initiative was a complete success this summer. We really want to thank all of our customers, supporters, and of course Lulzbot for helping to make this all possible. We will most certainly be looking to replicate this initiative again in the future." says Colin Pischke - President of Print Your Mind 3D. 


This is a very exciting milestone for Print Your Mind 3D and our Enviromaker initiatives. We still have one more donation to make as part of our commitment from this summer so stay tuned for updates on that. Reach out to us to let us know your thoughts on what you want to see Enviromakers support on Facebook, Twitter, or email us at support@printyourmind3d.ca or call 587-226-2645.