Alberta collaboration has students 3D printing prosthetic hands for children in need for Edmonton Hand-a-thon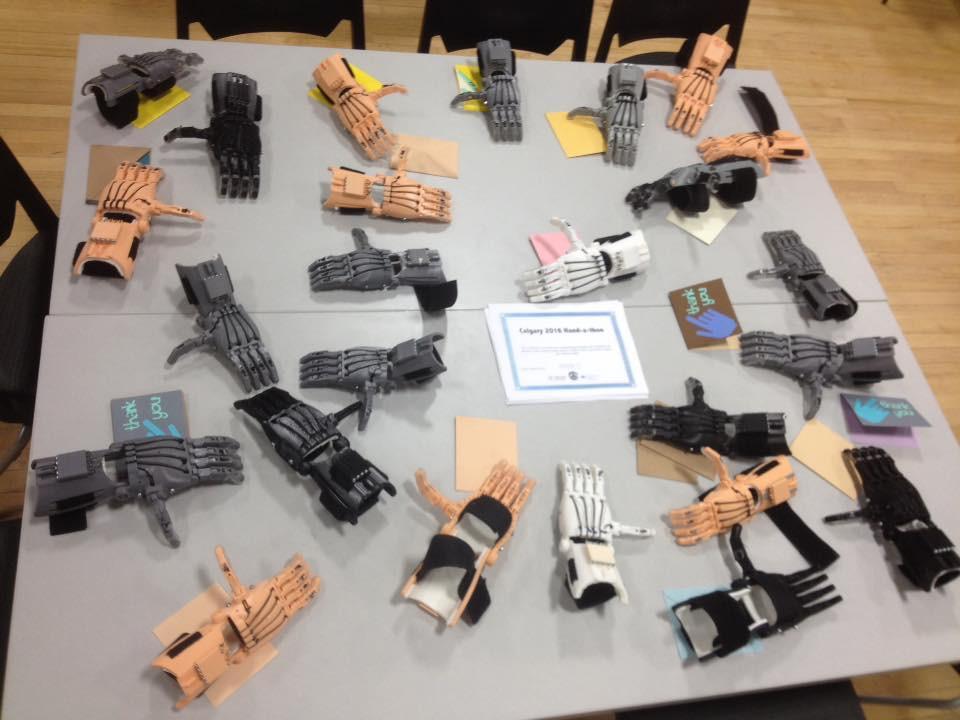 Photo credit ARYN TOOMBS / CALGARY HERALD
Print Your Mind 3D is teaming up with students in Alberta to 3D print prosthetic hands for children with upper limb differences
   3D printing is changing our world in many ways. Some people make toys and trinkets while others, like us here at Print your Mind, help solve problems on a global scale. 3D printing prosthetic limbs and donating them to those in need is one such initiative. My name is Colin Pischke and I am the owner of Print Your Mind. I am very excited to announce that we have teamed up for a second time with an Edmonton based one-of-a-kind education initiative, correctly termed INNOVATE, that allows students to create their own self-directed project to work towards solutions to global and local issues while earning high school credits. INNOVATE is coordinated by Alberta Emerald Award winning teacher, Aaron Dublenko, who was recently awarded "Canada's Greenest School" for supporting student-led environmental initiatives within the program.
As part of his program, Aaron finds industry partners to help with his environmental/sustainability and humanitarian projects. That's why we decided to reach out to Aaron and the Innovate program, to get students involved in the project. "The students can apply their learning in a real world context and touch the lives of others in the process. When we have an authentic experience like this, it doesn't end with printing the hands and giving it to someone, it only begins there because now we get to start to imagine what is possible and how we can make the world a better place for many. Our actions have a profound impact on someone's life. We take education for granted because we don't understand all of the ways it effects us until we help to create the world we want to see around us." says Aaron.
 Print Your Mind 3D is sponsoring this event as part of our Enviromaker initiatives which we contribute a portion of all sales to further promote education, innovation, and sustainability. We have already began the long task of printing over 15 prosthetic hands which will be donated as part of this event. Hands are being 3D printed both here in Calgary at our office, and in Edmonton by INNOVATE program students in preparation for the event on December 16th. These 3D printed prosthetic hands will be donated to the e-NABLE Community Foundation where they will be distributed around the world to children who would otherwise not have access to them. 
You may remember earlier this year when we hosted the second event of it's kind in Canada for our Calgary Hand-a-thon. In March we welcomed over 50 students from across Alberta where we 3D printed, assembled, and donated 30 prosthetic hands to children in need around the world. The students leave the event with a life changing experience knowing they are truly having an impact on people around the world through this event.
We had an overwhelming amount of positive feedback from our last event, so we decided we had to do it again. This time, the event will be taking place in Edmonton. Real change will come from this event, both here in Alberta, and around the world. 
When:

December 18 from 10am - 2pm
Where:

Queen Elizabeth High School
 If you have a student interested in participating in the Edmonton Hand-a-thon, or would like to volunteer to help on event day, please let us know by sending an e-mail to colin@printyourmind3d.ca