Providing access to technology - one 3D printer donated for every 10 sold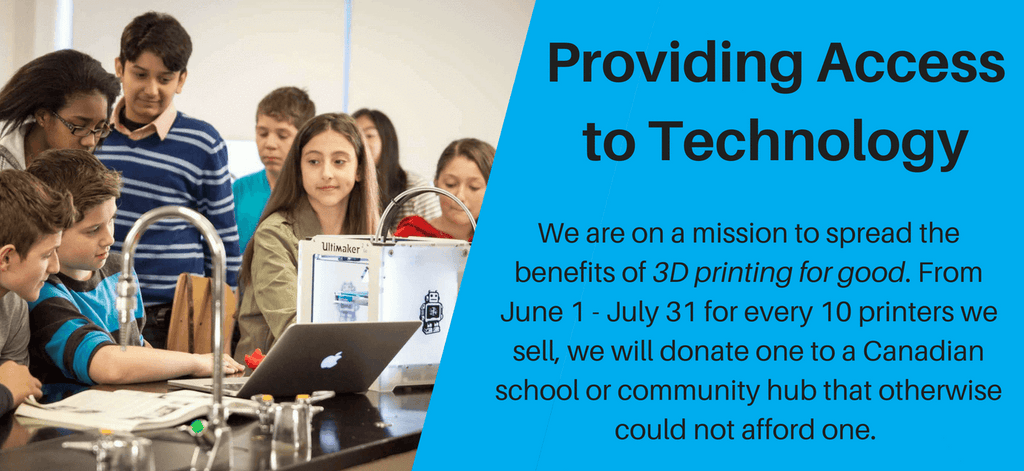 Update - January 17, 2018 
We have made our first printer donation to a very deserving school. Our first Lulzbot Mini 2 3D printer was donated to Bowcroft School in Calgary, Alberta. Learn more about that here. 
Update - August 27, 2018.
We are very excited to partner with EducationMatters to support local Calgary schools that serve communities facing socio-economic challenges. Through their maker funding, we will be donating a minimum of two Lulzbot Mini 2 3D printers to local schools. The process has begun in terms of distributing the information to schools within the Calgary area that have economic challenges. We are also working with a special team within the Calgary Board of Education to evaluate and distribute the printers and/or maker funding to these schools. 
The application process will run until late October and we hope to begin distributing the printers by November.  We are very excited about this partnership to be able to further the reach of our 10 to 1 initiative thanks to EducationMatters. Stay tuned for more updates in October.
Original Post - June 6, 2018: 
We are on a mission to spread the benefits of 3D printing for good and creating the next generation of socially minded makers.  For every TEN 3D printers we sell, from June 1st to July 31st, we will donate ONE. We will donate these printers to a Canadian school or community hub who could otherwise not afford one.  
This initiative was inspired by another spectacular group doing this in America, Cayenne Community.
What is 3D printing for good? This is a term we have coined for many of our Enviromaker initiatives. The principal of this is utilizing technology to create solutions to real world problems that benefit people and the planet. 
We want to take this initiative one step further to be able to provide a full STEAM education package to schools who are lacking the proper resources. This is why we are looking for partners in other industries like renewable energy, robotics, computers, urban farming, and coding to work with us to create a package that we can donate that allows a school in need to have access to all of the educational resources to prepare students for the jobs of tomorrow. If you are interested to partner with us on this initiative, please contact us so we can work together!
 We will have a call for donation requests coming shortly for those schools or community hubs who could benefit from this initiative. Stay tuned as we work to shift the mindset of Canadians to socially minded makers.