XSTRAND™ Glass Fiber Filaments Now Available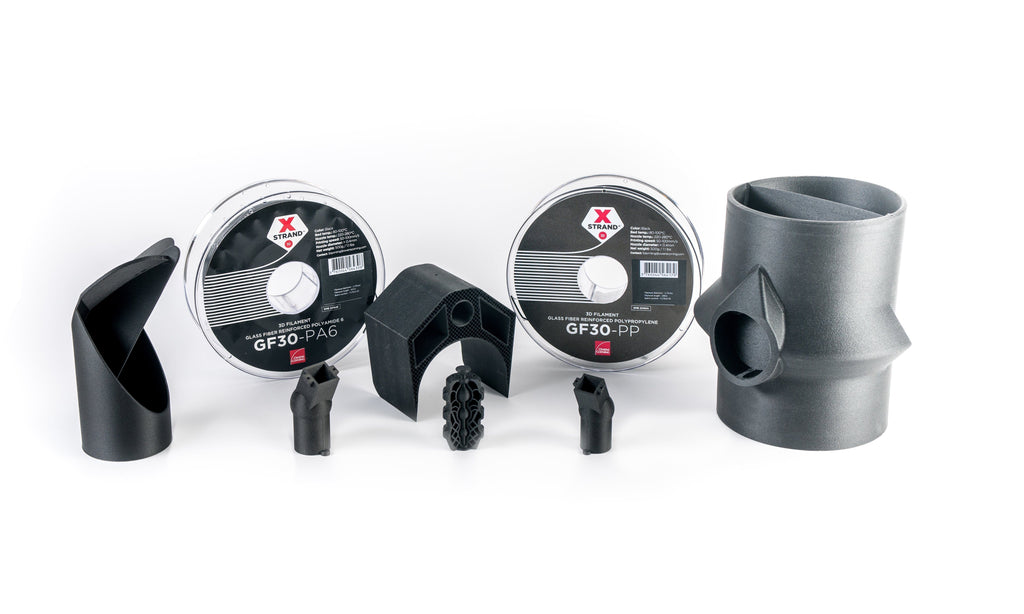 Print Your Mind 3D is now carrying filaments from Owens Corning, a world leader in glass fiber composites, inculding their XSTRAND™ Nylon and Polypropylene


Key filament attributes:
Reinforced PP and PA6 filament with 30% glass fiber

Up to 250% stronger than ABS (Tensile Modulus (MPa) ISO 527)
Designed for functional prototyping and industrial applications
Excellent layer adhesion and reduced warping effect compare to neat materials
Very stiff and strong materials
Large operational temperature range -20°C to 120°C Good chemical and UV resistance



Learn more and order yours today:
Frequently Asked Questions (FAQ)
What is the optimal print temperature?
PA - 240 - 260°C
If using adhesive solution (packaging tape, HDPE bed, etc.), much lower in the range of 30-50°C
What are the applications for the material?
Industrial usage including tools, fixtures, heavy duty replacement parts.
Sport and leisure parts.
Electronics and appliance parts, and many others.
How quickly does it degrade your hardened nozzle - e.g. how many grams printed before replacement?
On the Ultimaker, we have 2,432 hours of successful prints with GF-30 PP and GF-30 PA6 using the same tool steel nozzle.
What is the difference in surface finish between the two
 

XSTRAND

™

 

GF-30 PP and GF-30 PA?
The GF-30 PA6 feels a little rougher and the GF-30 PP is silkier.
How much temperature can the printed part handle? Wet or dry?
This is linked to the Heat Temperature Deflection Test. We chose the highest ISO standard value at 1.8MPa and both materials standard specimen is handling 120°C in temperature. For this standard test, material are conditioned 48h at 23°C and 50% moisture air before the test. However, this is a general value that is totally dependent to the part geometry.
How is
 

XSTRAND

™

 

filaments different than carbon fiber filled PA or PP?
Leading Brand of CF Reinforced PA6
Owens Corning Glass Fiber Nylon
Tensile Modulus
4387 MPa
7400 MPa
Tensile Strength
64 MPa
60 MPa
Heat Deflection Temperature
102°C
(at lowest pressure of 0.45 MPa)
124°C
(at lowest pressure of 1.8 MPa)
Flexural Modulus
5650 MPa
6100 MPa
Flexural Strength
78 MPa
170 MPa