High-Strength 3D Printing Now on Lulzbot Printers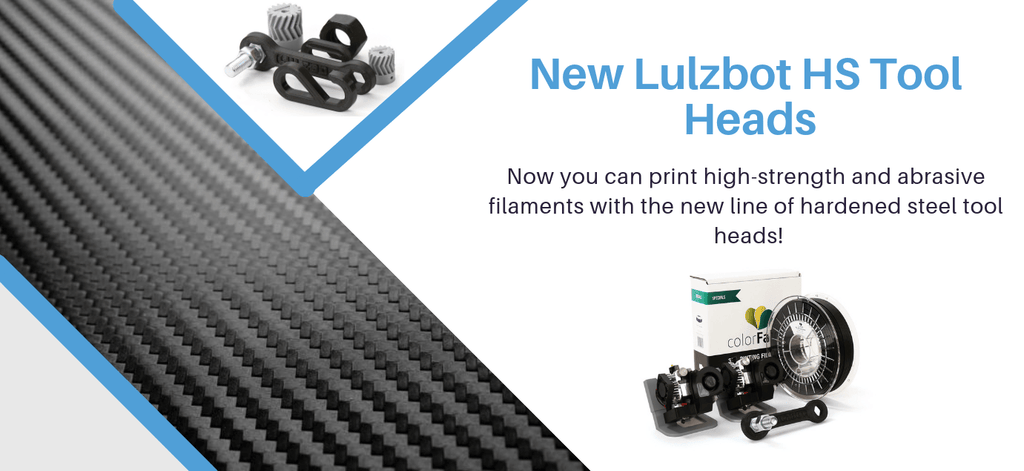 Expand the printing capabilities of your Lulzbot 3D printers with new hardened steel tool heads!
We have some exciting news for users of Lulzbot 3D printers including the Lulzbot Taz 6, Lulzbot Mini, and Lulzbot Mini 2. Now you can print high-strength filaments with the new line of hardened steel toolheads. These tougher and abrasive engineered polymers offer exceptional mechanical and thermal properties. The new HS (hardened steel) tool heads enable 3D printing of industrial-grade composites, such as carbon fiber or glass fiber-filled polyamide (nylon)  for high-strength 3D prints. 
For a limited time only the HS-Series Tool Heads will have a 30-day, 20% off introductory price (ending Dec. 14th), so act now!
Compatibility Alert
The LulzBot HS-Series Tool Heads are capable of printing industrial composites with a tensile strength yield comparable to PEEK (tensile strength of 15,200 psi - ASTM638). These polymers are used in a wide range of high-demand applications, from structural components to the automotive industry. Parts printed with these composites have higher impact resistance, resist deformation, while retaining strength in harsh and demanding environments. Industrial materials combine strength and dimensional stability (less than 2% elongation at break - ASTM638) with the ability to perform in higher operating temperatures up to approximately 120° C (248° F). The ability to create high-strength functional jigs, fixtures, and prototypes on-site in a matter of hours can help to significantly reduces lead time and cost for many businesses.
These new tool heads feature hardened steel components to maximize durability. These are purpose-built with high-strength 3D printing in mind. The hardened steel extruder hobb is engineered to minimize wear from abrasive composite filaments, and a larger heating block enables more throughput for wider nozzles. Objects printed using these new HS-Series tool heads will be stronger due to better layer adhesion and thicker walls.
Stay tuned to our abrasive collection for some exciting new filament arrivals!