3D Printing For Schools And Education - 3D Printing In The Classroom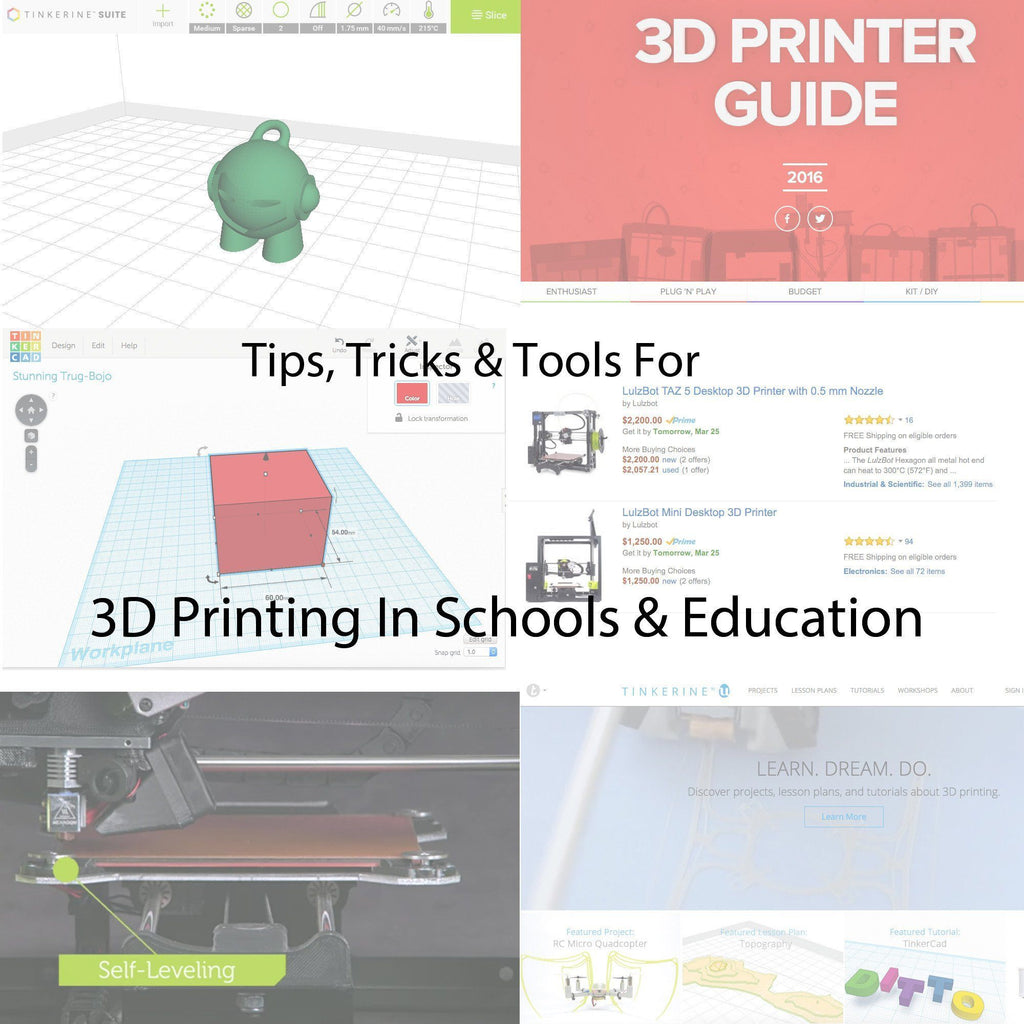 Getting started with a new technology can be difficult. Even some of the most tech savvy gurus out there take time to learn, operate, and play around with a new gadget before they can use it properly. Now imagine rather than a guru, you have 30 teenagers trying to push every button on your schools newest 3D printer and you get an understanding of the struggle many teachers face when bringing one into their classroom. 
 Having worked in education for years, we know these struggles are real. What this post is aimed to do is provide teachers with tips, tricks, and tools to help your school better implement 3D printing in your classroom.
Let's start with the tips and tricks
Do your research - There are hundreds of different models of 3D printers out there. Do yourself a favour and do your homework before you buy your first printer. Be sure to check the reviews of the printer you are looking at before you buy. If you can't find a review for a printer, or if they are all telling you to stay away from that printer, that is a pretty good indication you may want to select a different machine. Here are a few great places to check for reviews:
                     Reviews of the Lulzbot 3D printers from www.amazon.com
                              3D Hubs' 3D Printer Guide
Ask about educational discounts - Some companies, including Print Your Mind 3D, are happy to offer educational discounts to schools. These discounts are not available to other groups so be sure to take advantage of them to help save on the cost of purchasing 3D printers for your classroom.
Find a machine that is easy to use - Regardless of the 3D printer you choose, there is always a lot to learn in the beginning. Some printers offer specialized functionality to make the process of operating easier. Things to look out for would include:
                                           Cura - Simple
                                      Simplify 3D - Complex
 Make sure you are covered - The last thing you want to do is hand over thousands of dollars for your first machine just for it to break and never be used again. Most credible manufactures will offer a minimum 1 year warranty. That means if anything goes wrong while it is shipped to you, or if the printer had a faulty part, this will be covered at no cost to you. Repairing printers yourself can be difficult and costly without this. For extra peace of mind you can usually get yourself an extended warranty for an additional 1, 2 or even 3 years. All of the printers we carry offer both the standard 1 year manufacture warranty, and the ability to purchase an extended warranty. 
 Tools
There are tons of resources out there for 3D printing. Some of these can make getting started with 3D printing in the classroom much easier for you. 
Ultimaker Education & Pioneer Program - The goal of the Pioneer Program is to bring educators together to collaborate on 3D printing curriculum and content to inspire, excite and motivate their students. The Pioneer Program is printer agnostic, so any educator, regardless of what 3D printer they are using, can participate. This program honors the importance of community to the Ultimaker brand and serves as a way to connect educators throughout North America who are passionate about bringing 3D printing and design into K-12 and higher education. You can visit the Ultimaker Education website here.
Other Ultimaker resources:
Educators superlist - find tons of educational resources including software choices & lessons, fun projects, lesson plans, guides, and much more.
Ultimaker STEAM set - 8 full lesson plans for educators on a range of subjects.
Education focused blogs - learn from teachers across NA and how they are integrating 3D printing into their classrooms.
Thingiverse Education -This is a collection of projects, prints, and lessons ranging in subjects from art, engineering, math, science and more. Visit the Thingiverse Education website for more details.
File Depositories - if your students won't be designing your digital models yourself, you can visit some of the many online depositories to download digital models for free. These websites have millions of files uploaded by users around the world. Here are a few of the top sites:
 Tinkercad - The design software we use most commonly use with young students, hands down, is Tinkercad. It is totally free, very easy to use, and runs right off of your web browser so you don't have to download anything. They also have a ton of tutorials to walk you through how to use the software. Teachers may also be interested to use Project Ignite. This allows you to create and manage a digital classroom for your students while they go through lessons on Tinkercad.
Fusion 360 - Although Tinkercad is an excellent place to start, it is limited in it's functionality once you want to create more advanced shapes and structures. Our suggestion for the next step up would be Autodesk Fusion 360. This software offers you a much more advanced tool kit which rivals some of the top paid CAD softwares on the market today. Even better, they offer free 3 year educational licenses to students and teachers. You can find a link for that here. 
 Projects
This is a list of projects we put together which are perfect for a classroom setting.
Food/Enviroment
Medical/Humanitarian
 If you are in education and looking to get started with 3D printing, get in touch with us to see how we can make it easier to get started. We have years of experience working in school districts across Canada. This experience in education, as well as 3D printing, makes us Canada's choice for getting schools started with this incredible technology. You can reach us at support@printyourmind3d.ca or call 587-226-2645. 
Happy printing!