The Basics Of 3D Printing Prosthetic Hands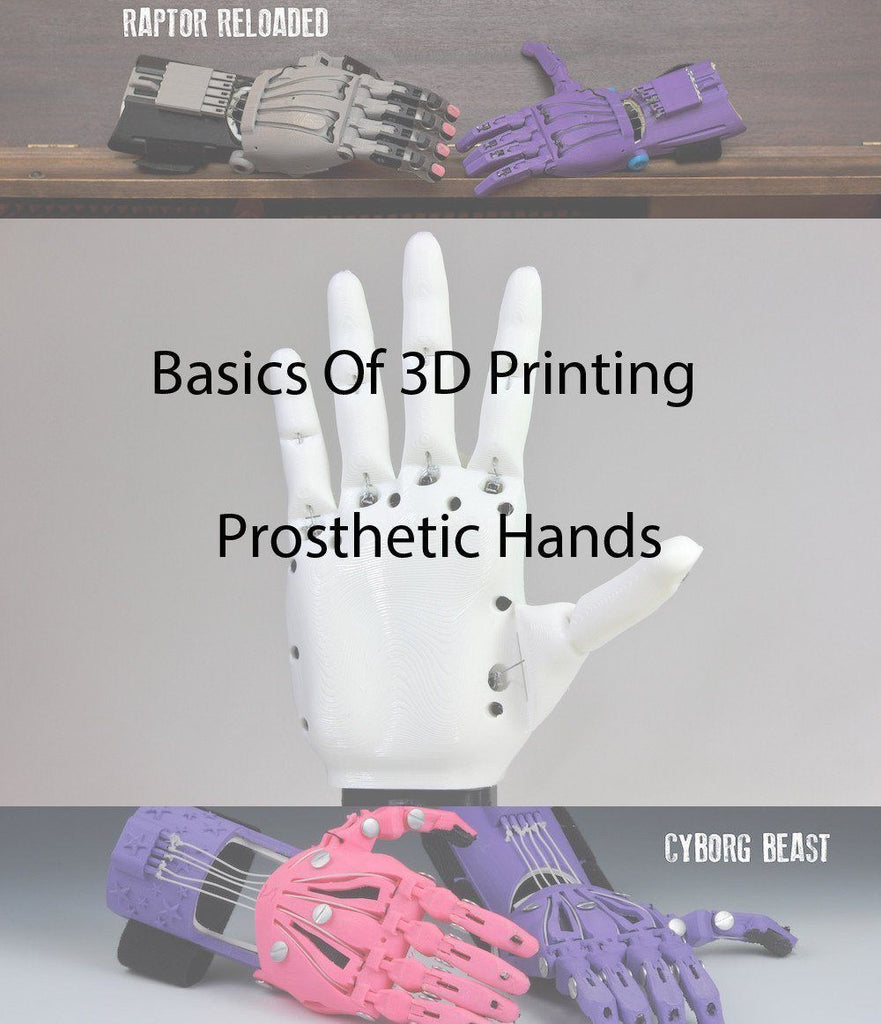 We know many people have now heard of 3D printing prosthesis, but there is a lot of misinformation out there about what the advantages and limitations of 3D printing prosthetics. We are writing this with a goal to help people better understand the current world of 3D printed prosthesis, and provide you with all the resources for others to get involved.
Why 3D print prosthetics?
This is a fair and common question. Why not just use traditional methods of producing a prosthetic hand? In our opinion, it comes down to two main things; cost and means of production.
Cost
The cost of producing a prosthetic hand on a 3D printer can be as little as $100. This is a fraction of the cost of traditional hands which can cost from $5000-$25,000. However, there are limitations in terms of fitting the prosthesis unless using 3D scanning and/or moulding to get a perfect fit to the effected limb. Because of this, some people who are financially secure would not go the route of 3D printing to fit their needs. If you have the money to purchase a prosthetic produced through traditional means, you will generally get an attachment that fits better to the effected limb, as the standard process involves casting the effected limb for a perfect fit. That is not to say this same process cannot be done when producing via 3D printing, simply that this is a step not always taken. For those less fortunate, 3D printing can be an extremely cost effective way of giving a child a new chance at feeling normal with similar but limited capabilities of a regular hand. Sizing can be done simply with photos and measuring devices for 3D printing. This is often done for organizations like e-NABLE, who produce prosthetic hands for children in developing countries they can't actually sit down with to take a mould.
Means of production 
3D printing prosthetics is in many ways still in it's infancy. Organizations like e-NABLE and Open Bionics are now making it easier than ever for anyone with a 3D printer to create a prosthetic. These organizations have only been around for a few years now. They have spent many hours developing and refining designs which can be 3D printed. They have also made the designs compatible with easily sourced components to go along with the 3D printed items. In this way, anyone with a 3D printer now has the means to produce prosthetics. Years ago this would have been far more difficult for the average person.
So you own a 3D printer and want to learn more about making prosthetics?
If you own a printer and haven't tried making a hand yet, you may wonder how the heck you can get started. There are a ton of organizations out there who are involved in 3D printing around prosthetics, but we will highlight the two we believe are the best for someone just starting out.
e-NABLE
e-NABLE is an organization made up of thousands of volunteers around the world with the goal of using their 3D printer to create free 3D printed hands and arms for those in need of an upper limb assistive device. The founder of the e-NABLE community and the Enable Community Foundation is Jon Schull. Back in 2013 he started the movement as a collective effort to crowd-source the design and delivery of 3D printed prosthetic hands to those who need them. The organization has gathered a ton of steam in the last few years, including snagging a $600,000 grant from Google. There are now groups working through their network around the globe to donate hands, improve designs, and make it as easy as possible for every day people to 3D print prosthetic hands for children in need.
Where are there e-NABLE volunteers?
Want to see where there are e-NABLE volunteers? You can view this interactive map to see who else is working with e-NABLE in your country.
Research & Development
There is constant innovation happening in the e-NABLE community. They put on regular Google Hangouts just to talk about R & D. This kind of open communication with designers, teachers, and specialists around the world help develop the many new designs that are constantly being released and improved upon. Below are a few examples of the research happening within the community:
Photo credit www.enablingthefuture.org
Photo credit www.enablingthefuture.org
Demonstration videos
It is one thing to see photos of the hand. To really get an understanding of how these hands work to change a child's life, we think you have to see them in action.
Luke's 3D Printed Hand by Ultimaker
 Swimming with a Cyborg Beast 3D Printed hand by e-NABLE Community Foundation
Biking, tennis and eating with e-NABLE hands by e-NABLE
Different Designs
e-NABLE community members have developed many different designs for hands. We will cover a few of the most commonly used designs. These hands work on a purely mechanical basis meaning the recipient will need to be able to bend his wrist or elbow in order to make the hand function properly.
Cyborg Beast
This design was developed by community member Jorge Zuniga and his research group at Creighton University. This was one of the most common design prior to the release of the Raptor Reloaded and the Phoenix hand which is currently being developed.
Photo credit Enable Community Foundation
Raptor Reloaded
This hand was developed collaboratively by some of the e-NABLE community's top designers. They have taken sizing a step further and developed the Hand-o-matic to make fitting a recipient more automated. This has become another of the top e-NABLE designs.
Photo credit Enable Community Foundation
Phoenix Hand
This was designed by Jason Bryant who is a researcher and teacher at Shandong University in China. This had has a number of added benefits over the previous two including using elastics rather than nylon strings, as well as having the thumb and fingers oriented for better grip.
Photo credit Enable Community Foundation
UnLimbited Arm
This arm was developed for those that have a functional elbow and a considerable amount of forearm but no wrist, or at least not enough to power a wrist driven device like the ones above. It was developed by Stephan Davies and Drew Murray of Team UnLimbited.
Photo credit Enable Community Foundation
Materials
Although these hands can be made from nearly any 3D printing thermoplastic, e-NABLE generally recommends you use one of these 3: ABS, PLA or Nylon. ABS and PLA are the most common filaments used in 3D printing. If you are looking to make your hand extra durable, try using Nylon.
Along with the 3D printed components, each hand requires a few additional hardware items like medical foam, screws, velcro and elastic connecting materials. These materials will vary depending on the hand you want to make. Be sure to check what the required hardware is for each design in it's description.
For more information about e-NABLE, or to get signed up to print a hand for a child in need, visit www.enablecommunityfoundation.org.
Open Bionics
Photo credit Open Bionics
Open Bionics has developed an open source initiative which uses a combination of 3D printed and robotic components to take these hands to the next level. The company was started by Joel Gibbard only a few years ago and has gone on to win many prestigious awards for the contribution to lowering the cost of advanced prosthetics. 
Video from Open Bionics Youtube
As you can see, these hands work by utilizing linear actuators hidden within the fingers. A micro-controller is used to deliver information taken from muscle sensors on the user. This technology comes at a cost of about $3000 but allows the user far more capabilities than you will find in a wrist or elbow driven device. 
Demonstration Videos
  Open Bionics Ada Robotic hand Controllable Via EMG from Open Bionics Youtube
This 3D Printed Prosthetic Costs Way less Than Alternatives from Vocativ Youtube
Devices
Ada Hand
Photo credit Open Bionics
This is the first release from the Open Bionics team. They recently released a kit you can purchase to create your own Ada hand on their website.
Materials
 Open Bionics has specific requirements when it comes to their hands as certain functionality is needed. They suggest using Ninjaflex for the palm, and ABS for the fingers and other components.
Conclusion
We are thrilled to see organizations like e-NABLE working diligently to produce extremely low cost prosthetics for those in need around the world. It is also exciting to see how organizations like Open Bionics are developing more advanced 3D printed prosthetics, which are still a fraction of the cost of traditional products. This new era where passionate makers have the equipment and resources to produce life changing devices like prosthetics so easily and affordably, is truly game changing.  If this is where we are today, you can only imagine what things will be like 5 to 10 years from now. We don't know about you, but that is something we sure want to be a part of.