Introduction to Using Flexible 3D Printing Filaments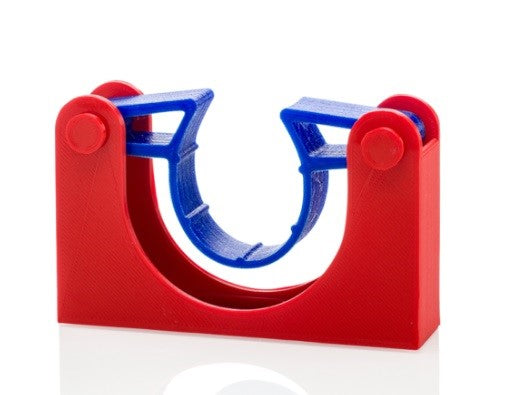 OVERVIEW
3D printing is a disruptive but a democratized manufacturing technology currently being used by professionals, students and hobbyists around the world. The technology is used in a multitude of industries and its usage is driven by the vast range of materials available for 3D printing.
One such popular FFF 3D printing material is the flexible filament. Flexible filaments exhibit unique property to absorb shocks and vibrations and an ability to return to its original shape even when twisted out of shape. These properties make it a desirable material in many applications. However, the softness of the material means an additional challenge when printing.
Here through this article, we take a look at flexible filaments, how they are used, their advantages & limitations, the printing challenges they pose & how to overcome them.
3D PRINTING FLEXIBLE FILAMENT
Flexible filament is a form of polymer and is made from Thermoplastic Elastomers (TPE) which is a blend of hard plastic and rubber. The rubber lends its elasticity to the plastic. TPE thus can be easily bent or twisted and can return and retain its original shape.
TPE has been around in industries and 3D printing for a long time and so it is more popular whereas TPU is a new entrant to 3D printing but has quickly gained wide acceptance. TPU is the more rigid form of flexible filament. The higher the rigidity, the better is the ability of the material to return to its original form.
TPU exhibits a shore hardness rating between 60A and 55D, TPE and TPU are mold rubber so uses A scale. For instance, 95A is as hard as a shopping-cart wheel.
It is also important to note that the degree of flexibility depends on the blend formulated by the filament manufacturer focusing on the final application.
In the case of visible parameters, TPU has a smooth finish and also has better abrasion resistance than TPE. All these factors and with the launch of branded, and affordable, TPU filaments, the material use has rapidly increased.
PROPERTIES OF FLEXIBLE FILAMENT
TPE/TPU offers great elastic properties. It also exhibits good fatigue resistance. Flexible filaments also offer excellent tensile strength, high elongation at break, and good load-bearing capacity.
PROS OF FLEXIBLE 3D PRINTING FILAMENT
Flexible filaments have a lot of advantages that can be summarized as below:
Flexible filament is a soft and elastic material.
It can be easily bent, twisted, and stretched
The flexible filament can retain its original shape and size for a long duration of time
It exhibits minimal shrinkage and warping.
It has good impact and chemical resistance
It is ideal for use in vibration damping and shock absorption applications
CONS OF FLEXIBLE 3D PRINTING FILAMENT
Like every thermoplastic material, flexible material is also hygroscopic
It is prone to stringing and clogging
It is not suitable for printers using the Bowden extrusion system
It needs a lot of customized printer settings to print well
Has to be printed at low speeds, low temperatures,
Difficult to print with support structures
It is difficult to post-process
APPLICATIONS OF FLEXIBLE 3D PRINTING FILAMENT
 Flexible filaments have numerous applications as stated below:
Consumer goods
TPU is ideal for producing accessories, such as phone cases, and footwear components. 3DP Orthotics, one of our long-term partners, uses flexible materials to print orthotics for its customers.
Medical
A lot of pre-surgical models are printed in flexible filaments for conducting mock surgeries.
Wearable Devices
Flexible filaments also have applications in making wristbands for wearable devices like watches, health bands, etc.
Automotive
With its high chemical resistance to oils and greases, TPU is ideal for automotive applications like seals, gaskets, plugs, tubes, and protective applications.
Vibration Dampeners
Flexible filaments have found wide acceptance in traditional industries as vibration dampeners for heavy machinery.
Shock Absorption
For heavy equipment like press and stamps, shock absorption is highly important and so flexible materials are used to absorb the regular shocks generated by the machine.
Sporting Goods
Elasticity is also very useful in sporting goods in terms of grips and so sports is also a big and emerging application sector for flexible filaments.
Printing with Flexible Filaments
COMPATIBLE 3D PRINTERS
All 3D printers that Print Your Mind 3D carries have some capacity of printing flexible materials. Some more capable than others.
Ultimaker 3D printers are Bowden tube printers and so they have limited capability while printing with flexible materials. Whereas LulzBot printers have a direct-drive extrusion system and hence they are much more comfortable printing with flexible filaments.
A Bowden style is a tube through which material has to pass to the nozzle. In such a system filament has to travel a longer distance from the feeder to the nozzle and can have problems with softer filaments.
However, Ultimaker printers do have the capability to print with soft materials like 95A.
LulzBot printers operate on a direct drive system which is more efficient in printing flexible materials. The direct-drive helps LulzBot printers to print with the full range of flexible materials, such as Ninjaflex and Semiflex.
PRINTING TIPS USING FLEXIBLE FILAMENTS
Users have to take proper care while 3D printing with flexible filaments as it is slightly difficult to print with. A direct Drive Printer is usually preferred when printing flexible materials. The printing speed has to be low and when possible, avoid using the flexible material as support. Similar to printing with any other materials, we recommend starting with the stock settings in Cura, and slowly adjust over multiple prints to find the ideal setting for your project. Below is a typical print setting for flexible material and some explanation.
| | |
| --- | --- |
| Parameter        | Remark |
| Printing Temperature | 225°C -245 °C |
| Bed Temperature | 45-60 °C |
| Print Speed | 20-30mm/sec |
| Cooling Fan | Required |
| Enclosure | Not Required |
| Extruder | Direct Drive Extruder |
Build Platform
Flexible filaments exhibit good first layer adhesion but it is recommended that users use a PEI bed or use painters tape to increase the bed adhesion.
Support Structures
Support structures are essential to printing as they serve as the base to overhang layers. But in the case of flexible filaments, it can be a bit of a problem if the support structures are also made from flexible materials. So, it is recommended to avoid using flexible material as support. Alternatively, users can use separate support material in dual extruder printers.
Additionally, by adjusting the orientation of the model, support structures can be minimized. This is easily possible in CURA.  
Layer Height
Flexible filament 3D printing should be carried out with a lower initial layer height. A layer height of 0.1 mm can significantly improve the layer adhesion. Both Ultimaker and LulzBot offer great print resolution with reliable results and so they can successfully print with respective flexible filaments.
Extrusion System
As explained earlier, direct drive is preferred to Bowden drive when printing flexible parts. Ultimaker can still print 95A very well and there is no limit to the printing capability of LulzBot printers.
Retraction
Ideally, retraction should be disabled while printing with flexible filaments. Retraction settings can be found in CURA under the 'Travel' parameter. Retraction can sometimes cause blockage in the extrusion system because the flexibility of the material does not allow uniform retraction. If retraction must be used, then the retraction speed and amount should be experimented with to determine the ideal values.
Print Speed
CURA software has speed settings and print speed can easily be controlled through it. Printing speed is also an important factor for a successful 3D printing experience with flexible filaments. Low printing speed is recommended to ensure efficient printing.
Tolerance
While designing any fitment part, the tolerances should be carefully thought out considering the fitment type. For a tight fit, the tolerances should be kept negative as, after regular use, the fit will loosen.
Build Plate Adhesion
Rafts should be avoided as base layers of raft require a higher extrusion rate and that is not recommended for flexible filament printing. Build plate adhesion settings are also available in CURA software.
Ready to start printing with flexible materials? Check out our selection of flexible filaments or if you don't have a compatible 3D printer yet, take a look at our 3D Printers. Still need more information? Contact us and we will be happy to help!