5 Trees for Every Spool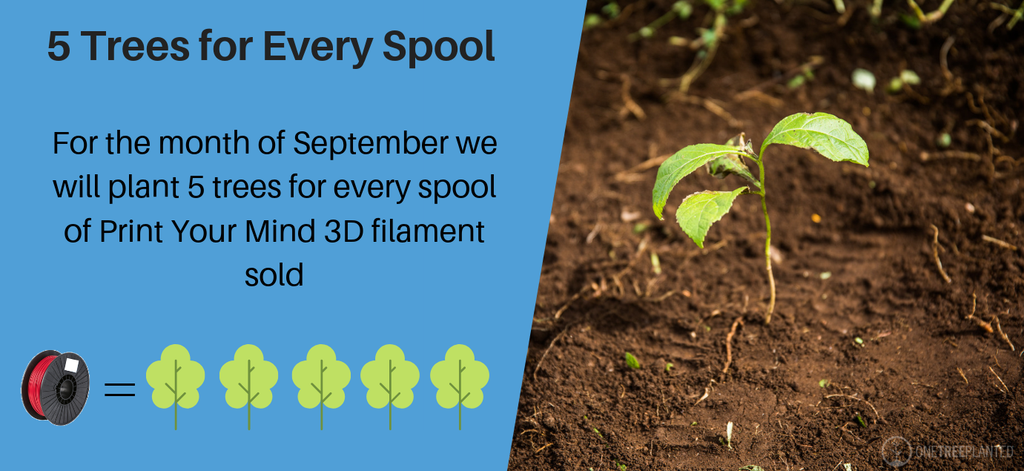 October 6th Update: Although we did not quite reach our goal of 500 trees, we were very close. The final total was 87 spools sold. Planting 5 trees for each spool equals 435 trees planted. Because we were so close, Print Your Mind 3D will cover the difference to plant 500 trees with our partnership with One Tree Planted. Thank you so much to all of our customers and supporters. We could not have done it without you!
September 16, 2019 Update: We are almost half way to our goal of planting 500 trees with this campaign. Currently, we are at 225 of our 500 tree goal. Help us reach the 500 tree milestone and order Print Your Mind 3D filaments today!

Here at Print Your Mind 3D, we are constantly striving to not only offer the best 3D printing products available, but to also have a positive impact on the world through our business. That is why we contribute a portion of every sale to our Enviromaker initiatives around education, innovation, and medicine. You can learn more about what we have done here.
As part of our continued commitment to our Enviromakers initiatives, we are working on a special project for September. We are committing to planting 5 trees for every spool of Print Your Mind 3D filament sold in September by partnering with One Tree Planted. Our goal is to plant at least 500 trees through this commitment, but we can only do this with your help. Order Print Your Mind 3D filaments now and help support the cause!