9 Reason to Invest in an Ultimaker 3D Printer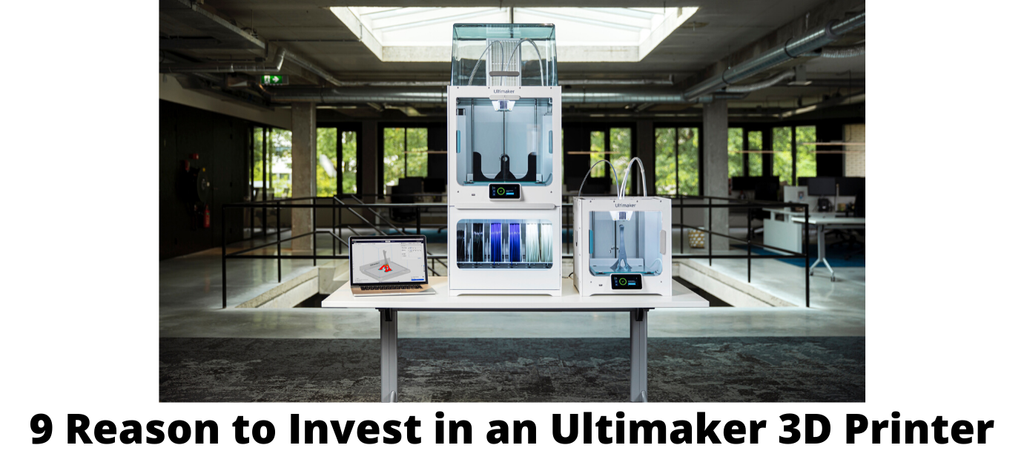 The complete Ultimaker ecosystem (3D Printer, Software & Materials)
3D printing technology has captured the imagination of engineers all over the world. The rapidly growing technology is now used for producing prototypes and even end-use parts. The technology is distinguished by more than 25 different patented technologies of which FDM/FFF technology being the most widely adopted technologies across sectors.
The FDM/FFF technology saw a rapid rise in acceptance after the RepRap movement and currently there is a dearth of FDM 3D printer manufacturers in almost all countries. But of those manufacturers, Ultimaker, the Dutch 3D printer manufacturer is a globally renowned name.
The company is known for its superior quality 3D printers, open-source slicing software, and its open materials program which has led to global partnerships. All these factors and more make Ultimaker one of the most trusted brands in FDM 3D printing.
Ultimaker gives more reasons for users to buy its products and we will give you 10 reasons to buy an Ultimaker 3D printer.
Reason 1: Reliable, Powerful, & Easy to Use
One of the most important factors to buy a 3D printer is the quality of the output. And Ultimaker is the best-in-class 3D printer. All its printers are powerful, easy to use and most importantly, reliable. Right from their first model, Ultimaker FDM 3D printers have been reliable and highly durable. Be it the Ultimaker Original+, Ultimaker 2, Ultimaker 2+, Ultimaker 3, or the recently released, S3 and S5, and S5 Pro Bundle, they literally are workhorses. This is due to a combination of sophisticated engineering that goes into both the hardware, software, and the Ultimaker ecosystem itself. Features like advanced active bed levelling, filament flow sensors, wifi and cloud connectivity, remote monitoring capability, a world class slicer in Cura, and automated material changing are just a few reasons why Ultimaker is still leading their segment with their newest generation machines. The high-quality output is a treat to users with minimal maintenance and and incredibly high uptime and throughput capacity.
Apart from all other factors which will follow, building a quality product is the real reason why Ultimaker is at the leadership position today.
Reason 2: Small & Large Format Options
Over the years, Ultimaker has understood the needs and requirements of its users very well. It is because of this understanding that Ultimaker has created FDM printers that come in a wide variety of sizes.
While regular FDM printers concentrate uniform scaling in all three axes, Ultimaker has created FDM printers which have been taller than regular printers. A need that is tried to address and to give users the advantage of a delta printer in a Cartesian printer.
Ultimaker S5
The Ultimaker S5 was designed to be Ultimaker's large format offering. With a build volume of 330 x 240 x 300 mm (13 x 9.5 x 11.8 inches) this printer can handle large parts, or you can fill the volume with smaller parts to print in batches. 
Reason 3: Open Source Philosophy
Ultimaker has always believed in an Open-source philosophy which is visible from how the company began and the type of products it created over to date. Right from its first product, Ultimaker has prided itself as being an open-source company.
One of their main objectives is to share their 3D printer files with the public and thereby create more makers who can use these files to ultimately share ideas with each other that may even help Ultimaker to grow.
In this way, Ultimaker is making users its partner in the development process of its products. According to Siert Wijnia, the CTO and co-founder of Ultimaker, "Being open source enables quick iterations and innovation which pushes the boundaries of the impossible every time. It means our innovations are community-powered and the focus lies not only on what we think is important but also allow our users to grow and transform with us as we develop new technology."
All its products reflect the open-source philosophy including the Cura Software and Materials.
Cura – the free to use open source slicing software by Ultimaker is one of the most widely used slicers by hobbyists, enthusiasts, students, academicians and even industry professionals all over the world. It has developed into a really powerful and reliable software with regular updates and new features being added every few months.
Its Open Materials Program is another reflection of its open-source belief.




Reason 4: Material Alliance Program
Jos Burger, CEO Ultimaker, Dr. Blake Teipel, CEO Essentium, Dr. Yihu Yang, CEO eSUN, Dr. Xiaofan Luo, President Polymaker, Benjamin Tan, VP APAC Ultimaker/Courtesy: Ultimaker
Ultimaker launched its Material Alliance Program in April 2018 to address the growing demand for industrial-grade engineering 3D printing materials. Ultimaker believes that material is the most important consideration for engineers when developing a product and determining the manufacturing process. This open material strategy makes it possible to print applications with different materials with specific properties such as heat, impact and chemical resistance, flexibility, strength and more.
Today, after less than two years after its launch, Ultimaker has attracted more than 80 companies worldwide to develop material print profiles for FFF 3D printing including Arkema, BASF, DSM, DuPont, Jabil, Lehmann&Voss & Co., Owens Corning.
According to Paul Heiden, Senior Vice President of Product Management at Ultimaker, "We've seen an overwhelming amount of interest in the Ultimaker Material Alliance Program since its launch. In just twelve short months, we've worked with many global companies to unlock new applications and have produced some amazing results."
The open materials program has resulted in development of new materials like the Luvocom 3F filaments from Lehvoss Group, Pebax® material & Kynar® material from Arkema, Novamid® ID 1030-CF10 by DSM Additive Manufacturing, Iglidur by Igus GmbH, IROPRINT F 80213 filament, a soft thermoplastic polyurethane (TPU) by Huntsman, Xstrand by Owens Corning and NylonX by 3DXTech.





Reason 5: Ultimaker CURA & Cura Connect
Ultimaker CURA – the professional slicing software/Courtesy: Ultimaker
CURA is one of the most notable free slicing software for 3D printing developed by Ultimaker. It was developed as a slicer option to use with its Ultimaker range of 3D printers but being open-source it is customizable to include a wide variety of 3D printers. Over the years, the community has evolved boasts of one of the most active user communities.
The easy-to-use software is perfectly designed for new and experienced users from all sectors. 
Ultimaker Cura Connect – the 3D printer management solution/Courtesy: Ultimaker
Cura Connect is one of Ultimaker's recent innovations. It enables users to control, monitor and configure a group of Ultimaker 3D printers from a single interface to provide an efficient production solution for office, studio, or work floor environment.
Cura Connect helps in streamlining the workflow by spreading the workload among the group of 3D printers, monitoring the print jobs with relative ease, customize job settings and even prioritize jobs as needed.
Apart from that the software is really efficient in scaling up operations, monitoring and scheduling maintenance tasks & regularly notifying users about a job's status.
Learn more about Ultimaker 3D Printers
Ultimaker FFF 3D printer comparison chart
Reason 6: Ultimaker Cloud Platform
The Ultimaker Cloud is a future-ready platform that supports professional 3D printing workflow. The features offered under the cloud platform are remote 3D printing, unlimited access to the Marketplace, Marketplace ratings, and the possibility to backup user settings for remote access with more features to be added over time.
Since Ultimaker runs on an open-source strategy that enables key ecosystem partners like CAD software providers, material manufacturers to seamlessly integrate with the Ultimaker Cloud, the integrations will provide additional value to its users resulting in a hassle-free, reliable, and seamless 3D printing experience.
Learn more about Ultimaker Cloud
Reason 7: Ultimaker Marketplace
Ultimaker Marketplace/Courtesy: Ultimaker
The Ultimaker Marketplace is a portal that helps users enhance their 3D printing experience by downloading plugins developed by companies and community members and material print profiles for branded, generic and customized materials.
The Marketplace is divided into two sections: Plugins and Materials.
Plugins - where users can find featured plugins (developed by leading companies like Siemens, Solidworks) and community plugins (developed by community members).
Materials – where you can find print profiles for featured profiles (profiles of material companies like Arkema, BASF, DSM, etc.), community profiles (material profiles developed by community members) and generic material profiles (installed by default)


Robust printing capabilities
Composite ready
Various print core sizes to match your specific need.





Reason 8: 24/7 Unattended Industrial Quality 3D Printing on Desktop
Ultimaker recently launched its S5 Pro Bundle which consists of the award-winning Ultimaker S5 desktop FFF 3D printer, the new Ultimaker S5 Air Manager and Ultimaker S5 Material Station. This bundle creates a unique combination of products that together solve every material handling concern. All the products seamlessly integrate with each other to give the best possible performance to a user.
One of the most important hurdles in FDM 3D printing is the necessity to manually monitor the printing process. But the Ultimaker S5 Pro Bundle offers a solution that is tested to run 24/7 in a completely unattended state.
This gives engineers more freedom, flexibility and time to perform other important tasks. This significantly improves the 3D printing workflow and productivity.
The Ultimaker S5 Pro Bundle transforms professional workflows through automated material management, boosting productivity, flexibility, and confidence to unlock more industrial-focused applications.


Reason 9: Trust
One thing Ultimaker has managed to gain over all these years in business is the 'Trust' factor. Nothing can replace trust and Ultimaker has surely enjoyed and cherished the trust it has received not only from the user community but also from leading companies and its industry partners including Volkswagen, Ford, Heineken, BOSE, Make Architects, Royal Netherlands Airforce, Owens Corning, and many more.
Speaking about the technology, Isabelle Haenen, global supply chain procurement at Heineken, "We're still in the first stages of 3D printing but have already seen a reduction of costs in the applications that we found by 70 - 90%, and also a decrease of the delivery time of 70 - 90%. 3D printing has proven to be a technology that helps us, brings value to us, and enables our people to work more efficiently."
Projects like these renew the faith in 3D printing technology and so the products, services, community, and partnerships Ultimaker has created over the years have led it to become one of the most trustworthy companies in the industry. It enjoys a level of loyalty that its competitors can only dream of and the drive to innovate and create simple, yet powerful and efficient products is what makes it a global market leader.